Fontepetrini estate, situated in a typically Tuscan landscape, has long tradition in the cultivation of crops, vines, and olive trees, following the old sharecropping system.
The main farm and the farmhouses are situated in a hilly area of about 100 hectares.
About 40 hectares are cultivated as woods (oak-trees), enclosing the whole estate.
Farm houses stand along the road running across the property; sharefarmers once lived in them.
The farm rooms are situated in the main farm, an ancient medieval fortified building of the 11th century.
The products
of the farm are typical of the Tuscan tradition: red wine, olive oil, and crops such as wheat and other cereals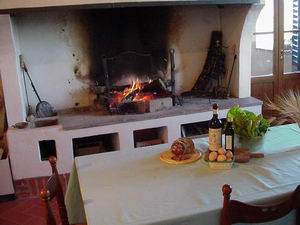 Still today, one of the sharefarmers breeds cattle of the well known Chianina breed.
The farmer has participated for many years in traditional local cattle exhibitions, winning several awards.
In '97 and '98 he represented the farm by participating in two historical parades with the traditional chariot through the centre of Florence. The parade started in Piazza del Duomo and finished in Piazza della Signoria.